Climbing, and especially the discipline bouldering, has become increasingly popular in the last few years. Since the launch of the bouldering hall Gropo, members have grown. There are currently 2 options for climbing in Groningen and here's where!
Climbing and bouldering: what's the difference?
Let us first shortly dive into climbing and bouldering. What is the difference? Both climbing and bouldering are done on a special indoor climbing wall or outside. Inside, the routes are mapped out. Outside, not so much, depending on where you go.
The color of the handles indicates which route to follow. However, there are a few big differences between climbing (top rope) and bouldering.
With bouldering, you climb max up to about 4 meters. For rope climbing you need a rope and a harness, for bouldering, there are thick mats at the bottom of the wall that ensure a soft landing.
Another important difference: you can do bouldering on your own, but for climbing, you always need a partner who secures you. To be allowed to climb, you must first obtain a climbing proficiency certificate. Most climbing gyms offer various training and courses so that you can master the correct techniques of climbing.
Where to climb in Groningen
Climbing Hall Bjoeks
Bjoeks has been around for ages. It's the first climbing hall in Groningen and has some boulder areas as well. Although, if you mainly want to boulder, I'd recommend Gropo. Indoor, Bjoeks has a lot of routes for top-rope climbing. There are some flat walls, that are suited for beginners and experts and there is some overhang as well.
Outside is more fun though! We have Excalibur, the name of the tallest freestanding climbing tower in the world.
We think it is special that this tower is located in the far north.
An hour in the climbing hall and you notice that 80% of the climbers speak a language other than Dutch. Climbers from all over the world travel to this special climbing wall. Check out Bjoeks at their website.
Location:
Price: day entrance, adults (26 through 64)/ €13,5. Young adults (18 trough 25)€11,00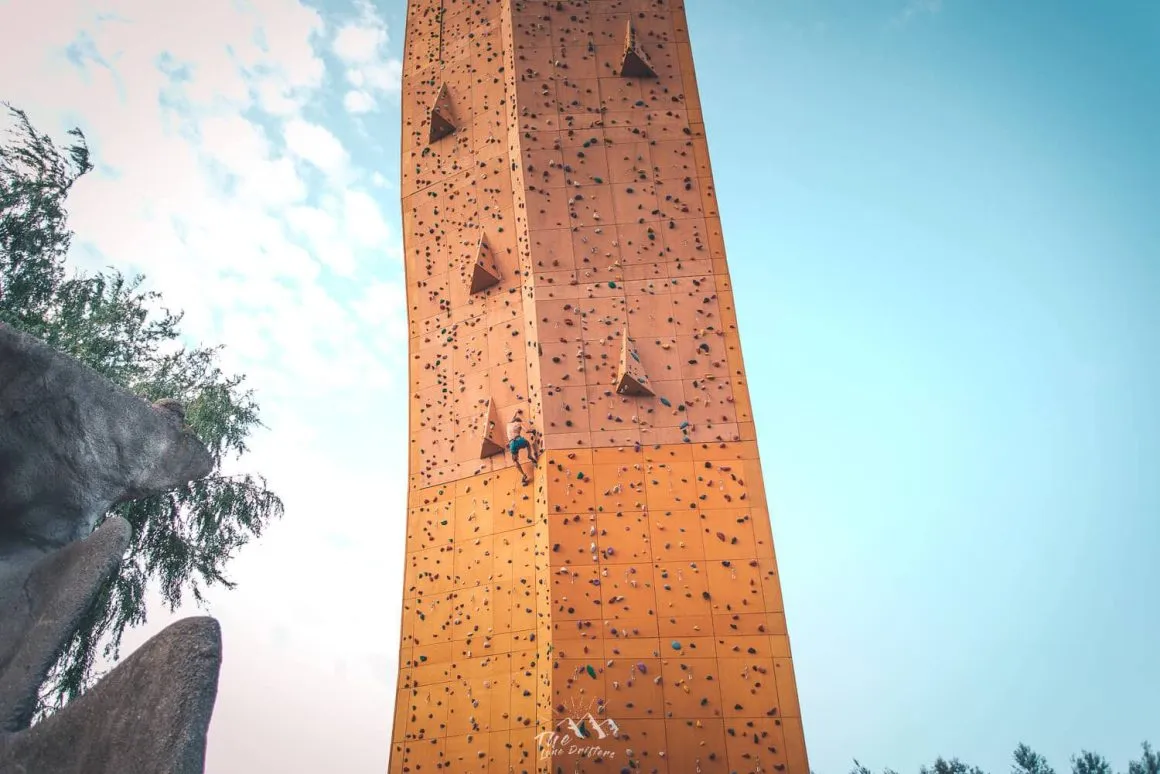 Bouldering hall Gropo
Gropo is the new kids on the block. Located, not too far from Bjoeks you can enjoy lots of boulders from kids to adult beginners and the more pro climbers. You can book a climbing session through the app Toplogger. Toplogger is an app for indoor climbing and bouldering halls, where climbers can check off what they've climbed, see their progress and stay informed at the gym. Each hall has a custom interactive map, specifically designed to make it as easy as possible to find your boulders and routes.
Location: Ulgersmaweg 8, 9731 BS Groningen
Price: Adults/Day ticket € 11.00. Young people ( 18 to 25 )/Day ticket € 9.50. Youth (7 to 17)/Day ticket € 8.00
Apex
A new bouldering hall in Groningen was opened in September! The people behind Kunst Werck Groep (including Energiehaven Utrecht, Kunststof, and Radium) recently opened Apex Boulders in Groningen. This is a pretty large bouldering gym and has a great vibe and place so sit down as well. I love it even more than Gro Po. You'll find this gym at Atoomweg 19.